PARKERSBURG – SW Resources Enrichment Program participates visited Community Resources, Inc. to learn about services and programs they could benefit from on Tuesday March 28th, 2017.
The Enrichment Program provides education to individuals on a variety of topics such as self-advocacy, safety, nutrition, interpersonal skills, etc.  The program is focused around the person enrolled which allows the individual the opportunity to participate in activities which will allow for growth.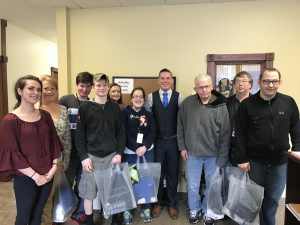 Community Resources, Inc. provided the Enrichment Program participates with a one of a kind hands on experience.  Each participate was provided with a goody bag, services/program materials and a backpack.  The backpack was used as a learning tool, each participate was asked to unzip the backpack.  Upon unzipping the backpack the question was asked.  If you were suddenly homeless and having to stay outside what would you pack in your backpack?  The room ro
ared with answers such as canned food, hygiene products, a blanket, first aid kit, a phone charger, clothes, etc.  However there was a kicker, only four items would fit because the backpack provided was very small.
"The back
pack scenario sparked debate and critical thinking for the group.  It would be hard for any individual to decide what items to place in one small backpack however it happens every-day in our city," said James Dismond, Development Coordinator at Community Resources. "This scenario coincided perfectly with CRI's daily services, at any given time our Case Managers and Community Service Specialist are prepared to assist with any crisis that comes through our doors."  Dismond went on to say participates where presented with real life scenarios of the types of crises that come through the doors at CRI.  Then the programs and services were described in detail in which were utilized to help solve the crises.   
Many participates found multiple services they could utilize for family, friends, and themselves such as case management, employment services, and other supportive services.  When asked which programs or services they enjoyed learning about the most, FaithLink, Case Management, and the Child Care Food Program were clearly the winners.  All in all the Enrichment participates learned of yet another community partner that could help them achieve goals while enjoying hands on activities.  The take away what should they place in their backpack that could help them in life.
For more information call 304-485-5525.