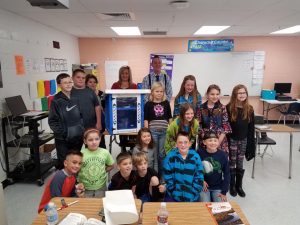 HARRISVILLE – Community Resources, Inc. and United Way Alliance of the Mid-Ohio Valley have partnered together to bring Little Free Libraries to many of their mutual counties.
A few months ago, United Way began planning, assembling, and decorating Little Free Libraries for the Mid-Ohio Valley area. This month, six of the Little Free Libraries are being placed within the communities of Jackson, Calhoun, Ritchie, Roane, Pleasants, and Tyler counties. These libraries will bring much joy to many children.
Little Free Libraries have taken the world by storm. With around 10 million books being shared thus far many would say Little Free Libraries is the newest global trend. Smithville Elementary fourth grade class of Ritchie County received a first-class presentation of the new trend. Community Resources, Inc. and United way visited the class with the Little Free Library in hand.
"We wanted to excite the children to take an active role with the Little Free Library. The fourth graders immediately became prideful to share books to the community," said James Dismond, development coordinator at Community Resources. "Sharing skills, creativity and wisdom across generations stands firm as the Little Free Libraries mission this fits right into Community Resources' empowering families and strengthening communities by providing leadership, education, resources, and opportunities to improve the quality of life. And what better way to promote both missions by starting with tomorrows leaders."
Bonnie Cline, Community Service Specialist of Community Resources, will host the Little Free Library adopted for Ritchie County and become its steward along with the fourth-grade class of Smithville. All parties agreed to check in on the Little Free Library and promote it throughout the community. The Ritchie County Community Resources Little Free Library will be located at 633 South Spring Street Harrisville, WV 26362.
For more information call 304-643-2332.