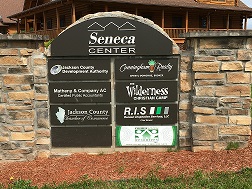 RIPLEY – Whenever you are experiencing a crisis such as going without food, shelter, or electricity where do you turn to?  Sadly, many do not always know where they can receive help whenever they are in one of these emergency situations. That is why Community Resources, Inc. (CRI) is located in Jackson County—to be the place that families can go when they are in a crisis. Now with CRI's new office their services are even more easily available to those in the community that need immediate help. CRI is devoted to those that are in need and with this new office they are ready to serve more in the community. Treska Dunbar, Jackson County Community Service Specialist says, "I love working with an agency that is so dedicated to helping those in the community. This new location will help us reach more clients and ultimately lead to more self-sufficiency in the community."
For 31 years CRI has been dedicated to serving those in the community that are in need and is the sole community action agency for eleven counties: Calhoun, Doddridge, Gilmer, Jackson, Pleasants, Ritchie, Roane, Tyler, Wetzel, Wirt, and Wood.  CRI is certain of the value of helping those in the community as much possible which is part of the reason why they moved locations, making it easier for those seeking assistance.  Because CRI is a non-profit organization, it relies on community supports, financial contributions, volunteers, and partnerships. CRI promises to affirm the right of all people to adequate resources to achieve self-sufficiency and believes that people experiencing turmoil should have availability to services capable of providing appropriate guidance and help, and ultimately improving the quality of life. CRI upholds this promise by providing services under their Accountable Case Management Plan (ACM) including employment, budgeting, education, nutrition, housing, health, substance abuse recovery, and transportation. The most common services are, but are not limited to utility assistance, employment opportunities, and tax assistance. However, CRI offers a broad range of services and other programs include Weatherization, FaithLink, Child Care Food Program, Financial Counseling, and Emergency Assistance.
The new CRI office for Jackson County is located at 2167 Seneca Drive Suite H in Ripley, and the office hours include Monday-Friday 8:00am-4:30pm. To schedule an appointment with our office call Treska Dunbar a t304-372-1966. CRI is eager to hear from you and know what they can do to help. With the number of services that are offered there is not much that CRI cannot do for you!